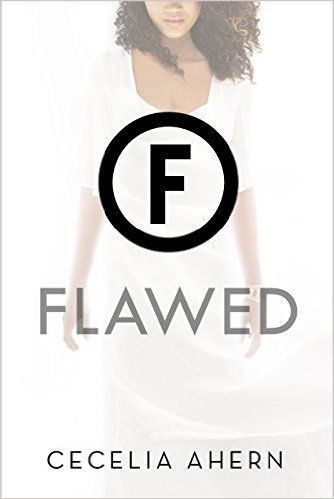 It is so crazy when it's time to choose a book of the month selection. I literally have to stop from listing at least three books to the mix. Specifically for the 'book of the month' picks. This is of course a direct result of my very lengthy TBR book list. The smorgasbord of anticipated reads that I want to devour continues to grow.
In addition, my personal reading time is being cut significantly now that school has started back. Not to mention a hectic work schedule. But I wouldn't change a thing at this moment.
Well...maybe just an extra two hours added onto the day for reading. *Sighs*
Anywho, moving on.
I'm seriously hyped about the book pick for September. I can't wait to start reading it. This young adult dystopian novel centers around a biracial young woman who has it all, which includes living a perfect life. She is part of the elite society...the flawless society. The flawed population is treated just as you would expect second class rated citizens to be treated and worse. But that is the punishment that was bestowed to an individual based on the flaw or act that was violated in the eyes of the powers that be. Celestine makes a decision that changes the scope of her life completely. She must fight the very society that she was once a part of.
The September book of the month selection is
Flawed
by Cecelia Ahern.
Flawed
sheds a light on social injustices in a dystopian world. However when it's all said and done based on the world we live in today. Is that world really so different?
Grab a copy of FLAWED and immerse yourself with a good book.
As always...happy reading.
Note: This Book of the Month post was originally posted on my entertainment blog on 9.6.16. I literally forgot to post this to my book blog.
Synopsis:
Celestine North lives a perfect life. She's a model daughter and sister, she's well-liked by her classmates and teachers, and she's dating the impossibly charming Art Crevan. But then Celestine encounters a situation in which she makes an instinctive decision. She breaks a rule and now faces life-changing repercussions. She could be imprisoned. She could be branded. She could be found FLAWED. In her breathtaking young adult debut, bestselling author Cecelia Ahern depicts a society in which perfection is paramount and flaws are punished. And where one young woman decides to take a stand that could cost her everything.
The second book in the Flawed series is titled
Perfect
and will release on April 4, 2017.
By the way...recent reads:
Mick Sinatra 3
by Mallory Monroe
Reno Gabrini: A Family Affair
#13 by Mallory Monroe
Tommy Gabrini 5: The Grace Facto
r by Mallory Monroe
Twist Me Series
(Trilogy) by Anna Zaires
End of Watch
by Stephen King
The Murder House
by James Patterson / David Ellis
Mick Sinatra 4: If You Don't Know Me By Now
by Mallory Monroe
I Almost Forgot About You
by Terry McMillan
The Game You Played
by Anni Taylor