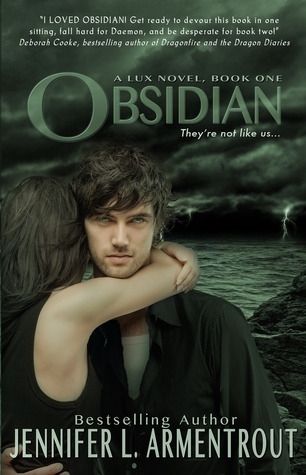 I'm so excited for the book pick for the month of May. I have been putting off starting this series for a minute and the anticipation from all of the good reviews has had me highly ready to do so, and so I felt the time is now. With that being said...the book of the month choice for May 2015 is 'Obsidian' by Jennifer L. Armentrout.
'Obsidian' is the first novel in the Lux Series, which consists of five novels and a prequel that is a novella. 'Obsidian' is centered around the much talked about duo, Katy and Daemon. One of the interesting aspects of the Lux series is the dynamic between the main characters of course...however, throw in the alien and paranormal dimensions to the story and you definitely have me ready to delve into the fantasy world that is the Lux series.
On the book to screen front, a film version of 'Obsidian' is in the works.
As always...happy reading!
Start the Lux series today! Amazon link for 'Obsidian' listed below.
OBSIDIAN Amazon Link
Synopsis via Amazon:
Starting over sucks.When we moved to West Virginia right before my senior year, I'd pretty much resigned myself to thick accents, dodgy internet access, and a whole lot of boring.... until I spotted my hot neighbor, with his looming height and eerie green eyes.
Things were looking up.And then he opened his mouth.
Daemon is infuriating. Arrogant. Stab-worthy. We do not get along. At all. But when a stranger attacks me and Daemon literally freezes time with a wave of his hand, well, something…unexpected happens.The hot alien living next door marks me.
You heard me. Alien. Turns out Daemon and his sister have a galaxy of enemies wanting to steal their abilities, and Daemon's touch has me lit up like the Vegas Strip. The only way I'm getting out of this alive is by sticking close to Daemon until my alien mojo fades.
If I don't kill him first, that is.
The Lux Series
consists of the following titles in order:
OBSIDIAN - Book One
ONYX - Book Two
OPAL - Book Three
ORIGIN - Book Four
OPPOSITION - Book Five
SHADOWS - A PREQUEL (Novella)
Visit Jennifer L. Armentrout's official website for additional book news and updates. Click the link below:
Jennifer Armentrout's Official Website