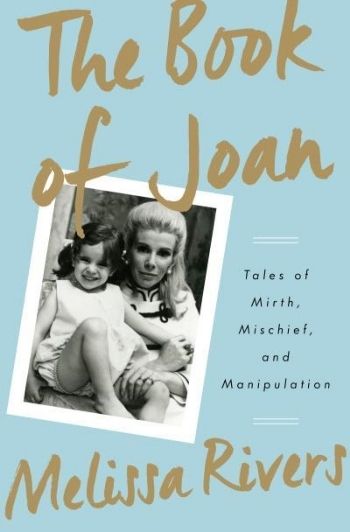 The Book of Joan: Tales of Mirth, Mischief, and Manipulation
by Melissa Rivers is a loving celebration, remembrance and gift, in print, for a beloved mother, from her daughter….
The Book of Joan
by Melissa Rivers was an emotional, unforgettable and humorous read. I knew from the start reading the book's dedication, which read,
For my Mother, whom I think about every day, and for my Father, who, as of this past September, is no longer resting in peace
, that Melissa Rivers had inherited her mother's witty humor and the story reflecting her mother's life and the lessons from which she learned from her, were going to be at times difficult to read and other times laugh out loud funny.
The flow of the story written by Melissa was very forthcoming. She shared private conversations she'd had with her mom, including personal advice, Joan's unrelentless determination to see Melissa married to a doctor (or rather just getting married), her life growing up with a famous mom and the life-long fascination Joan had with looks and cosmetic surgery.
The Book of Joan: Tales of Mirth, Mischief, and Manipulation
doesn't hold back from acknowledging why Joan felt the way she did about her looks and as a reader, you begin to understand her thought process. However, as Melissa reveals in the book, on her eightieth birthday, Joan Rivers told her daughter, "
You know what? For eighty, I don't look so bad.
" From Melissa's view, she felt her Mom had finally blossomed (in Joan's mind) from an ugly duckling into a swan. Of course like with any facet in her life, Joan was able to find humor in anything, including an insecurity that had haunted her from a very early age.
What stood out to me and was confirmed after reading this book was the fact that what you saw was what you got from Joan Rivers. Point blank and the period. Joan Rivers never let her age deter her from just being who she was…bold, provocative, audacious, talented and hilarious as hell. While everyone wasn't amused by Joan River's brash style of humor, she never backed down from her opinions, beliefs or art. That truly defines an artist and a trailblazer.
With
The Book of Joan: Tales of Mirth, Mischief, and Manipulation
, Melissa Rivers wrote a nearly 300 page open letter to her Mommy and let the world in on the love.
When you begin the journey of this must read memoir, written by the only person who knew Joan best, the opening lines from Melissa Rivers in
The Book of Joan
, makes you tear up and smile at the same time…
An excerpt from The Book of Joan:
I never thought I'd be sitting in a hospital making a decision about turning off a ventilator. I guess in my head I knew it was a possibility, as we all know we may face that kind of decision for a loved one someday. I just didn't know I'd have to make it so unexpectedly. Just last night my mother and I were on the phone, laughing and joking about an old friend she'd run into. It was a typical checking-in-with-each-other kind of call. I had no way of knowing that it would be our last conversation.

What I wanted was for her to sit up and say, "Ooh, that was nice nap. What time is hair and makeup?" What I needed was five minutes so I could tell hear all the crazy, hilarious things that had gone on around her the last week. We were probably the only two people in Mount Sinai who would've seen the humor in all this madness. But since I didn't get those five minutes…

In our family we always laughed our way through pain, so I decided to write a book that would have made her laugh. At least once a day she used to turn to me and say, "Can you believe this shit?" And I'd day, "Yes, Mommy, I can."

Mommy, I hope you're somewhere reading-and, God knows, editing-this book, but the thing I hope most of all is that you're smiling.
From that beginning…set the tone of this truly touching read that was filled with emotional reflection, trials and tribulations, lessons taught and learned, humor and most of all love.
*Please Note: I was provided a complimentary copy of this book in exchange for an honest review from the publisher.