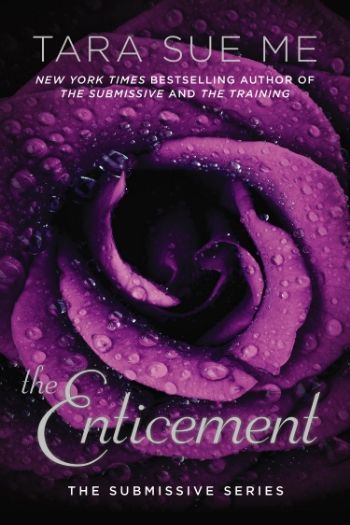 The highly anticipated release of the fourth installment in the Submissive Series by Tara Sue Me titled,
The Enticement
released earlier this month.
Abby and Nathaniel's story continues...and it will be one hell of a read I'm sure. The powerful chemistry and deep connection between the two main characters, along with engrossing storylines and subplots...all adds up to a mega epic must read series.
As always...happy reading.
New to the Submissive Series by Tara Sue Me? Check the blog archives for previous posts on the Submissive Series. It is a must must read series. You will NOT be disappointed.
Submissive series,
The Enticement
is available now!
*This post was originally posted on my main blog on 4.23.15
Synopsis via Amazon:
New York Times bestselling author Tara Sue Me returns to the story of Abby and Nathaniel to explore the passion after the 'Happily-Ever-After'…
Limits were made to be pushed. Abby West has everything she wanted: a family, a skyrocketing new career, and a sexy, Dominant husband who fulfills her every need. Only, as her life outside the bedroom becomes hectic, her Master's sexual requirements inside become more extreme.
Abby doesn't understand Nathaniel's increased need for control, but she can't deny the delicious way her body reacts to his tantalizing demands… Between Abby's reluctance and Nathaniel's unyielding commands, the delicate balance of power between the Dominant and his submissive threatens to shift.
And as the underlying tension and desire between them heats up, so does the struggle to keep everything they value from falling apart …
Order The Enticement by Tara Sue Me today. Click the link below:
THE ENTICEMENT Amazon Link