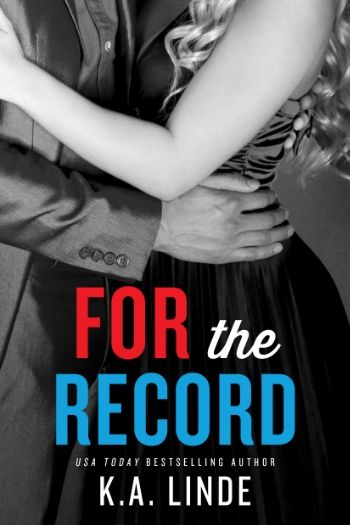 Alrighty folks...the must read RECORD SERIES by K.A. Linde just continues to get better. Well I mean that for a couple of reasons. First off, book two in the series, ON THE RECORD, worked my nerves, because it took Liz and Brady too long to get their ish together...and the book focused on another relationship that I will not get into now...as to not reveal too many spoilers. But, I was happy with the ending.
Secondly, the fact that book three in the series, FOR THE RECORD, released last month, is good news...Finally, readers will be able to see what obstacles Liz and Brady will face now that the two are officially a couple and the media ride begins.
I haven't read book three as of yet, but, it has been sitting patiently in my kindle library and I'm about to start reading it in a few minutes.
So "get your life" and purchase/download FOR THE RECORD by K.A. Linde now if you haven't done so.
Amazon Link --->
FOR THE RECORD Link
As always...Happy reading!
FOR THE RECORD [Book 3] - Released on 11.18.14
Synopsis via Amazon:
With Congressman Brady Maxwell up for reelection and journalist Liz Dougherty about to graduate into a promising career, the ambitious couple's future is brighter than ever. They share a passion for their work…and for each other. But when Brady holds a press conference to officially introduce Liz as his girlfriend, reporters hungry for a scandal bombard her.
Now, her every move is under a vicious magnifying glass, and her life feels like it's falling apart. On the road to reelection, the passionate bond between the congressman and the journalist gets tested at every stop. Threatened by shameless media sensationalism and jealous exes, Brady and Liz now have to learn to trust each other despite what they read in the papers.
In the finale to USA Today bestselling author K.A. Linde's sexy Record trilogy, Liz and Brady may be setting off fireworks along the campaign trail, but can their love transcend politics as usual?
In addition, if you are not familiar with the series, start with book one, OFF THE RECORD and book two, ON THE RECORD
OFF THE RECORD [Book 1]
Synopsis:
Liz Dougherty has no idea that a single question is about to change her life. Her first big reporting assignment for her North Carolina college newspaper has her covering a state senator's impromptu press conference.
Brady Maxwell may have everything it takes to be a politician—a winning pedigree, devastating good looks, a body made to wear suits—but his politics rub Liz the wrong way. When Liz's hard-hitting question catches the upstart senator off-guard, it impresses Hayden Lane, Liz's editor who feels she's headed for a promising career as a reporter.
But Liz is also headed into a secret romance with Brady that could destroy both their ambitions. Though he's a bachelor, potential voters might frown on Brady cozying up to a reporter. And Liz isn't sure sneaking around is enough for her—especially when things between her and Hayden might be less platonic than she thought.
K.A. Linde's Record series begins with a sleek, sexy, and smart venture into a high-stakes political campaign and an even higher-stakes affair that, in the end, will leave you wanting more with one of Linde's gripping cliffhangers.
ON THE RECORD [Book 2]
Synopsis:
For political reporter Liz Dougherty, election day—a day of looking toward the future and saying goodbye to the past—seems like a fitting time to start a new relationship. But feelings for her former flame still linger...
The sexy second book in bestselling author K.A. Linde's Record series decides whether it's better to pick up the pieces and move on...or to pick up right where you left off.