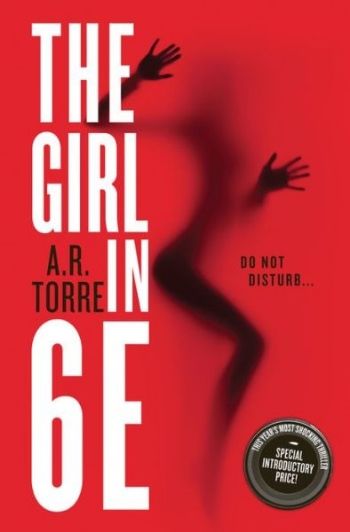 This month's book of the month pick is a dark psychological thriller by author, A.R. Torre. The September 2014 book of the month choice, THE GIRL IN 6E, is getting rave reviews and I've heard nothing but good things about it and the author.
The concept of this novel is astoundingly original. A young woman who makes a load of money being a webcam girl, has issues with the urge to kill people and chooses to live in her apartment 24/7, as a way to protect people from her. She is essentially a recluse. For three years she has enclosed herself away from the world. A series of horrific events lead to this dire situation.
The uniquely sinister way the story draws a reader in by just the brief description of the plot will surely not be bereft of sharp twists and crazy turns. It sounds like quite a mind trip. Get ready for one serious and intense read.
I recently picked up a hardcover edition and read a few chapters, Hopefully I will get to read it later this week. (School is back in session!) Anywho...cannot wait to crack this book back open and fly through the pages. (Currently reading: ON THE RECORD by K.A. Linde)
Even better...I have heard there is a sequel in the works. Doesn't get any better than that.
Get your copy of THE GIRL IN 6E by A.R. Torre today.
Amazon Link for The Girl in 6E
As always.... happy reading!
Synopsis:
My life, inside this apartment is simple. It works, as long as I follow the rules.
1. Don't leave the apartment. Not in case of fire, not to mail a letter, not to run an errand. The door stays shut, and I stay inside.
2. Don't get attached to clients. I take off my clothes, I stand in front of the camera, and I perform. What they want, I give. Their secrets, I keep. Everything I tell them, is a lie.
3. Don't kill anyone. I've obeyed that rule for over three years. My life, inside this apartment was simple, and it worked. Then, I started breaking rules. Enter a world of lies, thrills, fears, and all desires, in this original thriller from A. R. Torre.