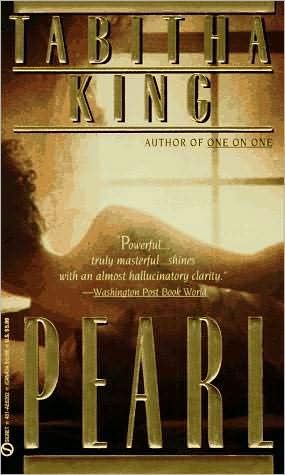 I recall reading this book years ago, perhaps in the early 2000's. I remember stumbling across it at a local library. I'm shocked that I hadn't given a referral on this title prior to now.
The only reason this particular novel came to mind today, is because I read an article about Tabitha King and her husband, famed horror author Stephen King donating millions to a library. I instantly remembered Tabitha's novel PEARL, and recalled how that at the time that I read it, I was pleasantly surprised that she wrote the main character as a woman of color who became involved in interracial relationships. That was rare to find in a novel, even back then (the 2000's).
Though I didn't read PEARL until the early 2000's, the actual publication date of the novel was 1989.
However besides the interracial factor, the novel PEARL in itself was a great read. The dynamic of the characters interactions, mingled with their flaws set the course of heartbreak, betrayal, love and redemption.
I definitely will read this novel again and add it to my collection.
Unfortunately it is not available on kindle. PEARL is available in new and used book editions
As always... Happy Reading!
Synopsis:
Pearl Dickerson arrives in tiny Nodd's Ridge, Maine, to claim an inheritance and lead a quiet life. But soon, exotic Pearl threatens the fabric of everyday life in Nodd's Ridge . . . as she becomes involved with two attractive, very different men, whose seething rivalry explodes into violence.
This gripping, finely crafted novel illuminates the depths and desires of an independent woman and exposes dark truths about life in a small town
Publisher's Weekly Description:
When the admirable heroine of the title, a 35-year-old black woman, arrives in Nodd's Ridge, Maine, to live in the farmhouse bequeathed her by an unknown uncle, local residents gossip a little behind her back, but otherwise do not respond to her color.
Having abandoned her career as librarian, Pearl Dickenson takes over the local diner, and with her deep, throaty laugh and indomitable spirit (not to mention her fried chicken), wins the hearts of both Reuben Styles, who runs the local garage, and David Christopher, the town's resident poet.
As summer progresses, Pearl is happy to find her life weaving seamlessly into the daily fabric of Nodd's Ridge, but the dilemma caused by her liaisons with both Reuben and David takes its toll. As Pearl helps Reuben cope with his wild teenaged daughter, David's past, which includes witnessing the shooting death of his young sister, makes him increasingly unstable.
Occasionally slipping into melodrama, King (author of Small World and The Trap and wife of novelist Stephen) resolves her story happily for nearly all of the small-town characters she brings vividly to life. Pearl's quiet wisdom and prodigious energy make her slightly more mythic than human, but she remains an unforgettable character. Literary Guild alternate. Copyright 1988 Reed Business Information, Inc.