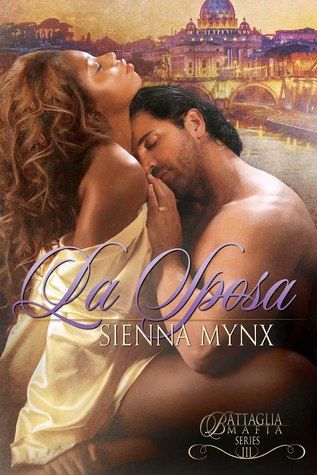 Lawd yes! The wait is over. The third installment in the uber popular BATTAGLIA MAFIA SERIES by Sienna Mynx is available. Book three in the series is titled LA SPOSA.
Order today on Amazon.
Amazon Link: http://tinyurl.com/cjf576f
If you have not read this blazing series, be sure to also purchase book #1[Destino] and #2 [Ti Amo] in the series. You will not be disappointed.
Yes I'm a huge fan, so of course I would say it wouldn't disappoint. But trust... it will not disappoint. I've read the first two books, but haven't read the third yet... but I know it will be off the chain! About to purchase it right now... y'all do the same!
Synopsis - Via Amazon:
You are cordially invited to the wedding of Don Giovanni Battaglia and Mira Ellison....

The year is 1991. Two years after discovering love and losing it Mira Ellison has finally accepted her destiny. She will become Donna Mirabella Battaglia, the wife of one of the most notorious crime bosses in Southern Italy. And she plans to have it all, her man, her children, and the fashion dynasty she left behind.

But with privilege comes ties to bloodlines that will threaten to destroy her love and family from the inside. Nothing, especially happiness, is ever promised to the Battaglias.

Don Giovanni knows this best. On the eve of a new beginning he learns a dark secret regarding Mira's past that could destroy everything they hold sacred. He is forced to decide, for love and marriage—how far should a man go to protect his bride.