Synopsis:
Gideon Cross came into my life like lightning in the darkness… He was beautiful and brilliant, jagged and white-hot.
I was drawn to him as I'd never been to anything or anyone in my life. I craved his touch like a drug, even knowing it would weaken me. I was flawed and damaged, and he opened those cracks in me so easily… Gideon knew.
He had demons of his own. And we would become the mirrors that reflected each other's most private wounds…and desires. The bonds of his love transformed me, even as i prayed that the torment of our pasts didn't tear us apart...
Synopsis:
The hotly anticipated second book of the Crossfire Trilogy continues the sensual saga of Eva and Gideon that began in Bared to You…the New York Times bestselling novel of "EROTIC ROMANCE THAT SHOULD NOT BE MISSED" (Romance Novel News).
Gideon Cross. As beautiful and flawless on the outside as he was damaged and tormented on the inside. He was a bright, scorching flame that singed me with the darkest of pleasures. I couldn't stay away. I didn't want to.
He was my addiction... my every desire... mine. My past was as violent as his, and I was just as broken. We'd never work. It was too hard, too painful... except when it was perfect. Those moments when the driving hunger and desperate love were the most exquisite insanity.
We were bound by our need. And our passion would take us beyond our limits to the sweetest, sharpest edge of obsession..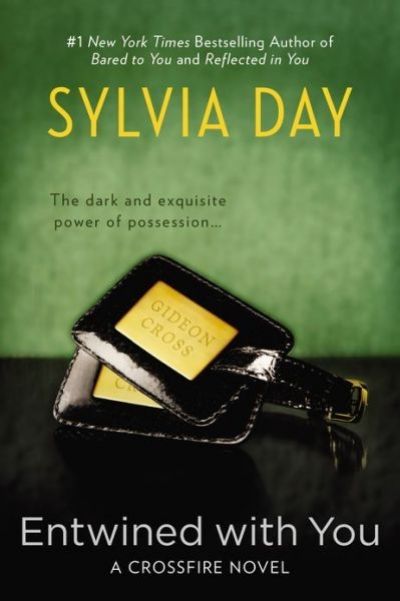 ENTWINED WITH YOU By Sylvia Day - Crossfire Series, Book #3 is available for pre-order, will release 6.4.13
This extremely popular series has been on my goodreads 'to read' list for a minute. I was looking forward to finally delving into the series to see what the fuss was about.
So it was a must to choose the Crossfire series as this month's book of the month choices.
Currently half way through BARED TO YOU, and I have to say it doesn't disappoint... too much. I do feel the story is a bit rushed and the character development could be a bit more descriptive, but seeing as though the story continues in additional novels, I'm sure additional details will follow.
The chemistry between Gideon and Eva is felt, yet there seems to be a slight discord with the flow of their relationship so far in BARED TO YOU.
With that being said, that is one aspect that keeps you turning the page to see what will become of Gideon and Eva. What secrets are they hiding and will it destroy their relationship
?
BARED TO YOU will hold your attention and I'm sure as the end comes to light... you will eagerly start reading REFLECTED IN YOU, book two in the series.... at least I know I will.
Happy Reading!